I'm excited to share my final
Southern Ridge Trading Company
Design Team Project. It has been truly an honor to design for this amazing Canadian Company! I've been blessed to be a member of the team, and I will truly miss it - BUT, I will keep on using these amazing chipboard pieces in my art and I can't wait to see what the next group of talented designers showcases!!
Tribal Feather Mix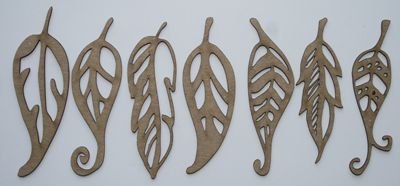 So, I wanted to really think outside the box this time - do something NOT even PAPERCRAFT! GASP!!! I call it "Feathered Wall Art" because it's truly not a dreamcatcher. PLUS, it's a fabulous project to use up all those bits and pieces of scrap ribbon and trims we all have kicking around the craft space!! This is a really simple project. Let's get crafting!
First, I covered an 8" Brass Dreamcatcher ring with a burlap ribbon. I used some Tear-ific Tape to keep it nice and adhered.
Next, I decorated my feathers! I used my Nuvo Embellishment Mousses in Fresh Copper, Aquamarine, Toasted Almond and Coastal Surf. I just used a sponge to color both sides. I added a bit of Nuvo Glimmer Paste in Moonstone to one of the feathers as well, using a palette knife to apply. I tried to use a stencil, but it really didn't leave an effect, so I didn't really include that in my instructions.
The ribbon trims were all tied onto the bottom of the dreamcatcher ring. I used some embroidery floss to tie my feathers on and accented with some copper leaves, beads and wire.
Here are the supplies I used:
- Nuvo Embellishment Mousse Toasted Almond, Fresh Copper, Aquamarine, Coastal Surf
- Nuvo Glimmer Paste in Moonstone
- palette knife
- sponge
- ribbon trim
- burlap trim
- sequin trim
- Tear-ific Tape
- 8" DreamCatcher ring
- embroidery floss
- miscellaneous wire trims


Thanks for stopping by! See you again really soon with some more handmade inspiration!!